Louise's Perfect Wedding Day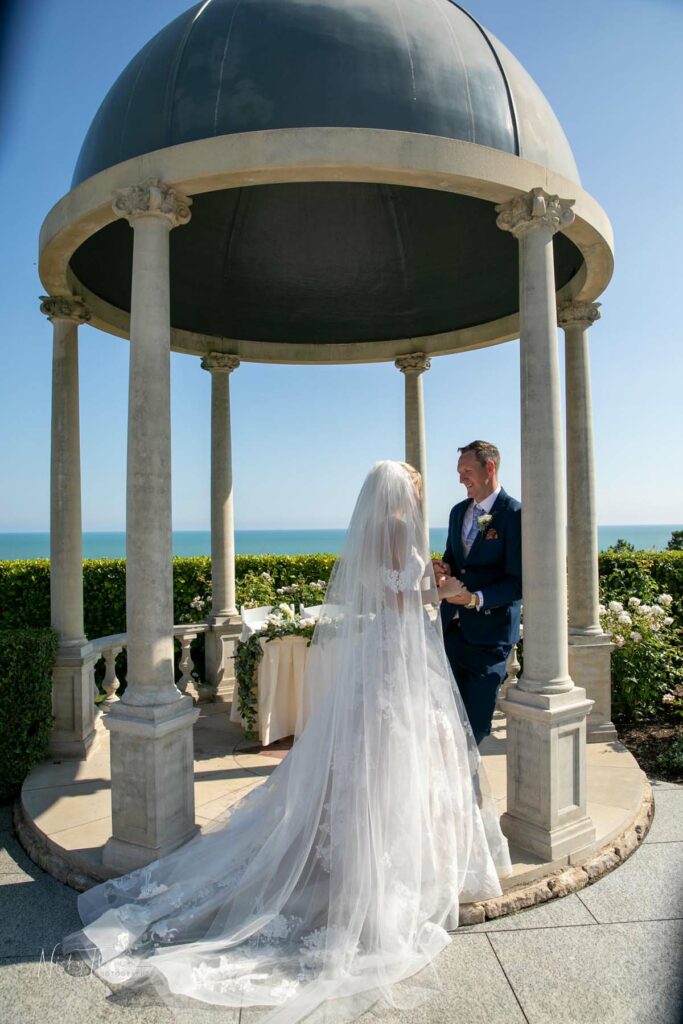 How did your partner propose?
Addam proposed in December 2021 in our living room whilst I was wrapping Christmas presents for our family. He had wanted to ask me after a nice meal at the restaurant along the beach where we went for dates, on finishing dinner he was going to take me for a walk in the moon light and ask me to marry him…I ruined this plan by going out with friends. He was going to wait until the following weekend, but after another "well that's another year were you haven't asked me to marry you" comment, he promptly said "well, I was going to ask you Saturday, but you went out with your friends". I didn't believe him, so he went up stairs and came back with a box.
What's the best piece of advice you received in the run up to your wedding?
Don't plan too much, as lovely as the big fancy decorations are, they are not even noticed on the day. We had very little decorations, or extra for our wedding, and because of this, I think it made the lead up less stressful and more exciting.
How did you go about finding your wedding dress?
I was very anxious about finding a dress, I do not wear dresses at all and always a jeans and hoodie person with timberland boots. I shared this with the team when I arrived and they guided me through the different dress styles. We started with an a-line and went from there. As it happens, I loved the a-line and ended up buying the first dress I tried on. I was made to feel at ease and very welcome. We spent a long time there and I am sure, spent about an hour sat in my dress. They sent it away after to be cleaned as it was off rack.
How many dresses did you try on before you found 'the one'?
1 before I knew it was the one, but tried on about 3-4 different dresses after, before coming to the conclusion, number 1, was the one for me.
Do you know the name of your dress designer?
Madison James – MJ763 – Maebry
What made you fall in love with the dress that you chose?
The other dress were lovely, but this one did not "show of my boobs" and did not hug my stomach. Wearing it, it just felt comfortable and it was that little bit of Disney princess that I loved. It had buttons all the way down the chapel train, the lace pattern on it was big and bold, so didn't look too much and the under colour was blush, which was just perfect with my ghostly skin tone.
Did you wear a veil and/or any other bridal accessories?
I bought a Swarovski veil to add a little bling.
Tell us a little about your wedding day – the vibe, what inspired you, etc.
As we used to go on our dates down the beach, our theme was beachy and chilled.
What was your favourite moment from the day itself?
Stand face to face with Addam and him saying "I'm not crying" whilst he kept his sunglasses on to hide. We got married outside, so this wasn't as odd as it may sound. They were also the sunglasses I had bought him as he always used to steal my ray-bans.
Is there any advice you would be happy to share with other brides?
Take time through out your day to just take time to look around at everyone, and see their faces and smiles, take moments in your day, to just be with your spouse.
Are you taking a honeymoon and if so when (in relation to your wedding, ie, immediately after, or sometime later) and what are your plans?
We are going on a honeymoon in November so that it wont be too hot. We made sure to book this some time after our wedding so that we could recover from the day first and have something to look forward to so you don't have post wedding blues.
Would you mind sharing details of any other suppliers you used? Ideally by their Instagram handle but if not, just a business name will do!
Photographer – NX-Photo
Planner/Stylist – We did this ourselves.
Venue – Hydro Hotel – Eastbourne
Shoes – Timberland Accessories – Family jewellery, matching hair piece to bridemades off of ETSY
Groom's suit – Marc Darcy
Bridesmaids – Goddiva Fashion – Revie London Lana Maxi Dress
Flower girls – Handmade from local ETSY seller – CocoFlowerGirls
Page Boys – NEXT
Florist – Buds That bloom
Cake – Family Friend
Transport – Family Friends
Entertainment – Whiteice DJ
Rings – Brown & Newirth
Catering – Hotel
Stationery – Vista Print
Hair Stylist – Hair and Beauty by Leah HP
Makeup Artist – Hannah McPhee Makeup
Honeymoon – TUI – Fuerteventura Seraton Hotel
And finally, if you were happy with the service we provided, we would be beyond grateful if you could kindly leave a glowing Google review. Google reviews play an enormous role in generating new enquiries for us and so your words really matter very much.
With love and thanks,
Fross and the Team x